Optimal size Pavilion 14.9 m2 is perfect for gatherings of a family and a group of close friends. It's a cozy place to rest or have a small party. Inside the pavilion you can enjoy a light coming through big windows and glazed doors as well as a grill, which is installed in the middle. So anyone would be happy to spend his/her time in a bright pavilion while eating delicious grilled food and making a weekend of it.
Standard Set
Wall - floor - roof panels
7 double glass windows (3 of them are opening)
Double doors with a lock and windows
Roof covered with bitumen shingles of your selected color
7 inside benches (2 of them are folding benches)
Inside grill with cooking platforms and tables around the grill
Adjustable chimney
Cushions for the benches
---
Pavilion 14.9 m2 Product Sheet HotBarrel.pdf
---
Pavilion walls are made of rounded spruce boards with the dimensions 45 x 145 mm. A roof of the pavilion is covered with bitumen shingles, and there are seven double glazed windows, three of which open. Besides that, the doors are double-hinged and glazed. Solid floor is easily assembled from separate components.
Pavilion is delivered to the customer fully complete, with detailed assembly instructions and drawings, and packed on a pallet (KIT). Two people can easily assemble this pavilion in 6 hours.
Size of the cargo (L x W x H): 3.50 x 1.20 x 2.55 m, weight: 1800 kg.
Available curtains color: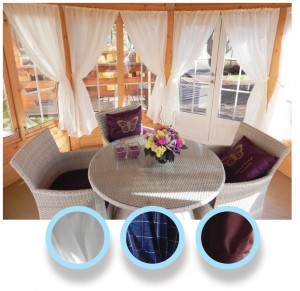 Available roof colors:

Available grill and chimney KITS: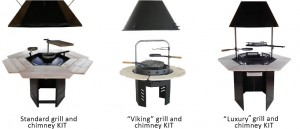 Accessories for pavilion:

What's So Special
Quality
Traditions meets new technologies to create a high quality products.
Experience
More then 10 years of experience
Design
Modern design products for truly exceptional garden.