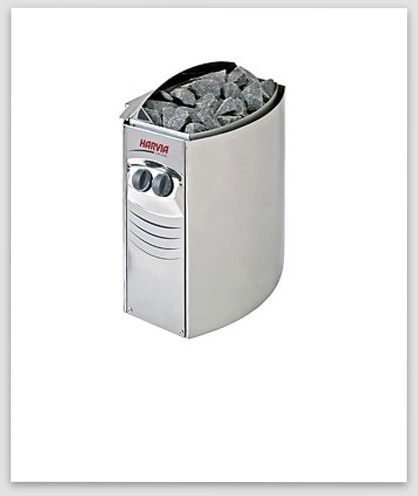 Vega  / BC80/ BC90 – A basic heater of top class.
Harvia Vega is an elegant electric heater that is easy-to-use. The stainless steel outer casing of the heater gives your sauna a modern look. The operating switches are placed ergonomically in the upper part, on the side of the heater, which provides easy operating. Stones and 400v connection included.
Vega is easy to mount on a separate mounting rack. Because of the symmetrical design, there is no need to change the handedness of the heater – it is simply selected. Electrical connections are made from the side of the heater, which makes an installation easy. Vega's structure makes it possible to mount the heater low on the sauna wall. This allows the heat to spread evenly throughout the sauna, ensuring that the lower benches also enjoy plenty of heat. The Vega models BC80 and BC90 are equipped with a built-in control unit. Stones included.
BC 80 – Sauna room min – max size: 7 – 12 m³. Output – 8.0 Kw
BC 90 – Sauna room min – max size: 8 – 14 m³. Output – 9.0 Kw
What's So Special
Quality
Traditions meets new technologies to create a high quality products.
Experience
More then 10 years of experience
Design
Modern design products for truly exceptional garden.